I'm feeling very off about my body, I have been for awhile now. Aside from the fact that my vagina is going through quite some trauma....well, not aside...
I'm on 3 different medications now. I spent $138 for 3 previous prescriptions that I was allergic to, and gave my vagina a stroke is basically what happened. Since taking the new medications I'm on along with rest in ICU my vagina is doing OK for someone recovering from a stroke. I'm almost out of the woods....
I haven't had sex in almost three weeks...
Aside from the vagina traumas, I'm really not happy about what is going on with me physically in general and I haven't been since January. Around January of this year I came down with Hypoglycemia, I wasn't diagnosed until Mid-March. During that time frame, I had no idea how to LIVE with something I wasn't sure of. I spent a lot of that time EATING-very desperate to keep my sugar up in order to stay AWAKE. I had work to do, and a disgusting workload to do since I was a senior. Between January and my birthday I put on about 18-20 pounds. My normal weight is about 14-145, and my measurements were 37-27-40. I currently weigh, 163 and my measurements as of yesterday are: 38-31-42. That waist number was 32 for a good portion of the summer and through half hearted diet I got it down one inch and that has been stable. Now I know MANY of us are not complaining about the hip measurement...lots of us. My boyfriend Mj certainly used to talk about my butt ALL the time, but now with the additional two inches he truly cannot keep his hands OFF of it. I'm not complaining. I've ALWAYS had this butt.....
As a 10 year old, I used to (of course) wear dresses and skirts to church. God forbid,it was summertime and the skirt had a little cling from being of a lighter weight material. Men in the church would stare, the pastor would raise an eyebrow, and everything with a penis on Utica avenue would ask me how old I was. This posed as a very,very serious threat to my family. Especially when at 11, when the first period came in, and the boobs came at lightening speed afterwards. At 13, I was wearing a 36C, this body has ALWAYS been like this. I remember the turmoil my mother went through. Always,always,always trying to cover me. I didn't have too many friends in Junior High and I wasn't regarded as popular cause I was the girl who "dresses like a boy". Not by choice. My mother would clothe me in football sweatshirts to cover the chest, along with several layers underneath and jeans sized way too large to cover the butt. My waist was so tiny that this also came along with belts drawn through the pant loops and pulled to match my waist and puncturing NEW holes to accommodate the small waist and big butt. My grandmother (R.I.P. 8/2004) was a seamstress. She made my high school prom dress, amongst many other things for me of course. Whenever taking my measurements, it was always followed by a sigh. As if to say, "what are we going to do about this", knowing the situation was pretty much hopeless. I'm shaped exactly like my grandmother's youngest child of 8, my aunt Charmaine. I look exactly now,as Charmaine did at this age, I do NOT resemble my mother. My mother on the complete opposite could have easily tried out for ANTM but was a major art/hippie. She was 5'9, 125 pounds and the only thing that was on her as my family recalls was a "Beyonce-blonde fro and some big boobs".
So being that I'm very,very used to my body being the focal point of attention since a youngster, I haven't taken to this hypoglycemia/weight-gain in a friendly manner.
There are 3 very significant loves of my life:
Lindsay Lohan
Asia Nitollano
Kim Kardashian
I would leave any man for any one of the three. I have an unhealthy obsession with the 3, my co-workers at my internship were throughly exposed to the Lindsay obsession and because of her being away at rehab, the Kardashian obsession has come out to play. Kim Kardashian obviously, has the closest body type to me.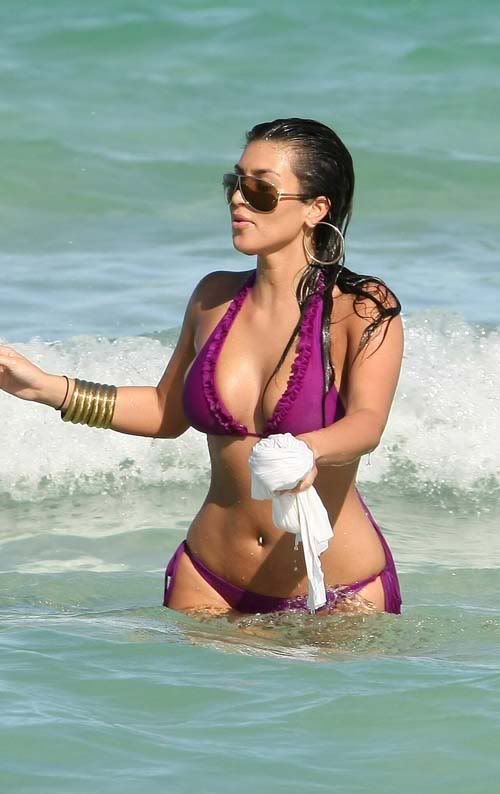 I feel very desperate to get mine back to what it was. Without losing the two inches on the hip of course :) The thing is, how does one who has never really had to EXERCISE for this body, start NOW. I mean I did have a period in life similar to this, when during high school my parents moved me from Brooklyn to Long Island completely altering my life. In an adolescent depression, wishing I was back in Brooklyn where I felt I very much "belonged" I shot from a pants size of 7-15. Again, the majority went towards the hip, and good portion in the waist. Getting over that depression with my parents help enabled me to get into a boot camp, and I came down to a size 9 in 5 1/2 weeks. I was stable there through college until my senior year, which is where we are at now. College is over. I don't have a free gym, but worse than that, I don't have the motivation. I know wishing cannot get you anything, but all I've been able to do is wish and hope that my frame returns to that of Kardashian.
So someone lend some advice please, with the vagina trauma, iron deficiency anemia that makes me freeze to death and sleep constantly, and hypoglycemia as some cute sprinkles on the cake, how EXACTLY do I get back to that??